Back to Profiles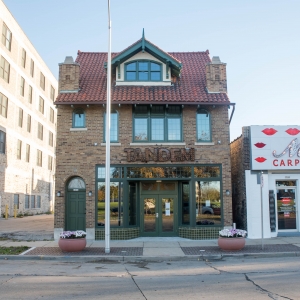 The Historic Walter Schmidt Tavern Development is a historic property located at 1848 W. Fond du Lac Ave. in Milwaukee's Lindsay Heights neighborhood. It was renovated for a new sit-down restaurant called The Tandem, located on the first floor and office space on the second floor. Completed in Fall, 2016, the Wally Schmidt project demonstrates a replicable social enterprise commercial real estate model. The lasting impact of the project can be measured in many ways:
co-developed with resident of the project's 53205 / 53206 neighborhood- teaching transferrable skills and building local capacity for future replication;
hired general contractor from 53206 zip code who in turn hired subcontractors that were almost 100% people of color;
provided nearly $1 million in direct investment value;
attracted 43 crowd-investor/owners, many new to investing, invested as low as $1,000; 30% are direct neighbors; one through sweat equity;
100% occupancy with seven small businesses – all black and/ or women owned;
created jobs for more than 20 formerly unemployed local residents;
turned a foreclosed, blighting abandoned building into a income and tax generating asset; and,
projected 6% cash ROI for owners.